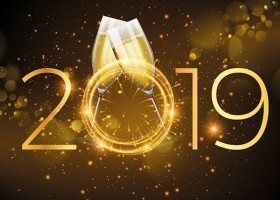 New Year's Eve - at midnight in Spain, 12 grapes are consumed with 12 chimes. You can be a part of this at the Plaça de Cort in front of the town hall with the beautiful clock, and accompanied by music from 23:15 clock by the group La Movida (Spanish rock band). Also on the Paseo del Borne where the band Coldsweat occurs and then DJ D-nou all supplied with music. Here is a selection of possible parties that take place on New Year's Eve 2018.
The Ritzi Lounge in Puerto Portals and the Titos in Palma on the Paseo Maritimo offer as every year an exclusive New Year's Eve party for its guests, all information and reservations can be found on the respective websites.

If it should be something special then the Bahía Mediterraneo on the Paseo Maritimo would be something, because there is provided in Great Gatsby Look for a glittering start of the year. Here you could book the dinner and wait for the new year at the long bar. An alternative would be the Villa del Mar on the beach of Cuitat Jardín, which invites you to party after the New Year's Eve menu with Dj.

Enjoy a unique view over the harbor of Port Adriano and enjoy a delicious dinner in the extraordinary location coast by east - Seafood, Barbecue & Bar in Port Adriano. From 8 pm Welcome with a sparkling aperitif at the bar. Afterwards the 5-course gala menu including accompanying wines. After enjoying the fantastic view of the El Toro fireworks display, you can enjoy a New Year's drink in our nightclub uppereast until the early hours of the new year. RESERVATION Phone: +34 971 - 57 67 57 E-Mail: restaurant@coast-mallorca.es

In the historic party property Sa Possessió in the business park Can Valero in the north of Palma (Gremi Velluters, 14) the party starts from midnight until 6 o'clock in the morning, and then you can dance here with rock and indie. For the tickets for 20,25 euros in advance (www.bit.ly/Karten-Sa-Possessio), a free drink is included.

Es Gremi's Polígono Son Castelló (Gremi De Porgadors, 16) hosts the sixth edition of the All-Stars New Year's Eve party. From 1 o'clock in the morning there's reggaeton, trap and hip hop and the drinks are free all night long. Currently tickets are available for pre-sale (www.bit.ly/Karten-Es-Gremi) for 32.50 euros.

15 Euro entrance fee plus free drink for the New Year's Eve party in the Red Club (Carrer Poima, 24). On two areas there is music by Kiko Melis, Romo and Savabien, The Southnormales, Mike Mauri and Bernie.

The M House Hotel (Carrer de Can Maçanet, 1A) offers a gala menu from 9pm. Behind the mixer is Sebas Ramis. 40 euros is the cost for guests who come only from 0.30 clock, the drinks are included in the price (barra libre). Reservations: Tel: 971-21 48 48 or email (hola@mhousehotel.com).

Close by, the Kaelum Club (Avinguda de l'Argentina, 3) can also kick off the New Year. In the two areas, Tardeo DJs provide the right background music. The standard admission ticket with two free drinks costs 15,18 Euro. Four people pay 100 euros including a bottle of high percentage.
In the restaurant Alfaro (Avinguda Gabriel Roca, 25) Jörg Jung sings from Inselradio. For 110 euros there is a three-course menu, table drinks are free until 23 o'clock. There will also be a hypnosis show. From 23 o'clock the event costs without menu 20 Euro per person.

At the Garito Cafebarclub (Dársena de Can Barbará), it starts at 8.30 pm with a New Year's Eve menu for 75 euros per person. The DJs Rainer Trüby, Gran Reserva (Nacho Velasco) and VIK.T bring the guests into the mood. Reservations by phone: 971-48 56 44 or by e-mail (reservas@garitocafe.com)

The Social Club (Avenida Gabriel Roca, 33) invites New Year's Eve fans starting at 10 pm to come to the premises on Paseo Marítimo. Music is available from DJs Javi Cascales, Kiko Navarro, Alex Caro and Sote de Lino. The standard admission price with a free drink is 23 euros, with two 28 euros. There are also VIP packages and you can have dinner in the club. More information on tel .: 683-61 96 30 or by e-mail (info@wearesocial.club).

Next door is the Templo Palma (Avinguda Gabriel Roca, 44) for all over 25-year-olds around. Between 1 and 2 o'clock there's free sparkling wine for everyone. Admission costs € 18 in advance and includes two drinks. The tickets can be bought at Trendy, Templo Palma and www.entradas.palmaocio.com.

The Nuevo Club de Mar (Avinguda de Gabriel Roca, 44F) is coming up with a novelty this year: its own section for over 25s. The entrance fee including two free drinks costs 25 euros. You can hear House, Pop and Reggaeton

The Mar de Nudos (C / Muelle, 6th Local 1st Moll Vell de Palma) starts the new year with a dinner party. At 19.30 clock it starts, the entrance and price for the seven-course menu is 179 euros per person. DJ Sp1der provides the right music. Reservations by phone: 971-214-722 or by e-mail (reservas@mardenudos.com).

The Congress Palace (Carrer de Felicià Fuster, 10) will once again host a big New Year's Eve Gala with aperitif, menu, live music and grape dinner. Adults pay 180 euros per person. Reservations: Tel: 971-62 69 10 or by e-mail (pcp.sales@melia.com).
West of Palma

Just outside of Palma de Mallorca at the SubZhero Disco Club (Avinguda Joan Miró, 322) in Sant Augustí, New Year's Eve music by resident DJs Isaac Indart, Cesar del Rio and Ralfus is on the menu. For the tickets guests pay from 15.18 euros.

A few more places will be celebrated in the Monkey Mind (Avinguda Mateo Bosch, 1, 07157 Port d'Andratx) from 0.30 clock. The standard admission ticket including two free drinks costs from 25 euros. If you want to reserve a VIP table, you should contact Marcos 711-75 85 26 (Spanish) or Giovanni 682-38 58-60 (English and German).


East of Palma de Mallorca

The restaurant Villa del Mar Mallorca (Carrer Illa de Rhodes, 24) in Coll d'en Rabassa prepares a festive menu and invites you to a dinner party from 19.00. Reservations at muzo@villadelmar.group

Twelve years of Club25 history are celebrated on New Year's Eve at Lunita in Can Pastilla (Camí de Can Pastilla, 39). Among others André Vicenzzo, Danny Leblack, Dick Ray and Javi Always hang up. Admission tickets are currently available for € 20.24, while the VIP Lounge costs € 253.03 (www.bit.ly/Karten-Lunita). Who wants to party, must be at least 25 years old.

The Event Finca in Portocolom (Carrer Vapor Santueri, 370) offers a culinary New Year's Eve party. DJ Kevko takes care of the mood. A reservation is required: Tel: 971-65 49 70 or + 49160-92 40 30 00. The entrance fee for New Year's Eve costs 99 euros, children under six years are free, young people up to 16 years pay half.

Cala Millor also has some restaurants open. For example, at La Havana Q (C / Avenida del Temps, s / n) New Year's Eve can be celebrated from 0.30 am onwards. DJ Obvius provides the right background music. All that before 1 clock come pay 10 euros for admission and a free drink, whoever comes after, pays 12 euros.

The disco carousel (Carrer del Passeig de la Mar, 14) is also the scene of the New Year's Eve on the last evening of the year. It starts at 1 o'clock. Admission is free.

In Cala Ratjada the night of the new year is also welcomed in several locations. At the New Year's Eve party at the Andy Bar Stadl (Carrer de Pizarro, 1) there is a flat rate on beer, sangria and wine as well as a glass of sparkling wine for the reception at 0 o'clock for those who pay 45 euros. For another 17 euros you can help yourself at the cold buffet. This price is for all guests who are celebrating there before midnight. Who appears after 24 clock, comes around the buffet.
The Bora Bora Ponesian Bar (Passeig Colom, 19) reopens at 0.30am, but does not organize a special event on New Year's Eve. Also, the Chevy (Passeig Colom, 19) has opened on New Year's Eve as usual.