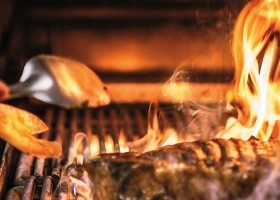 San San Sebastián - Barbecues & Music
In January is one of the most important festivals of Palma. We are talking about the San Sebastián Festival.
In honor of the patron saint sebastian will be over two weeks with various events one of
most visited festivals of the island's capital.
With a big concert night and a barbecue, Palmas citizens traditionally celebrate the eve of San Sebastián on January 19th.
They expect bands of all styles on the large squares in Palma. The San Sebastián Festival is considered one of the highlights
in the winter on the island. On the same evening of January 19th, numerous outdoor grill stations are being built,
where everyone has a barbecue together with their meat or sausages.
On the 20th of January the Correfoc Dimonis (Firewalking the Devil) takes place and as a conclusion the fireworks in front of the cathedral.

Stage program:
Plaça de Cort (Jazz)
20.45 Uhr: Mase Jara Quintet
22.00 Uhr: One Pac & Fellows
23.15 Uhr: Júlia Colom
00.30 Uhr: Nayla Yenkis & The Funkers
Plaça de la Reina (Flamenco/Rumba)
20.30 Uhr: El Parra
21.45 Uhr: Kiko Veneno
00.00 Uhr: Suu
01.30 Uhr: Zelisko
Plaça de l'Olivar (Swing & Rockabilly)
21.00 Uhr: Hi Hats Swing & Lindy Hop
22.45 Uhr: Glissando Big Band
00.30 Uhr: Black Cats
Plaça Major (Folk)
20.30 Uhr: Calabruix
23.00 Uhr: L'Equilibriste
00.45 Uhr: Elkin Robinson

Plaça Joan Carles I (Pop-Rock)
20.30 Uhr: Go Cactus
21.15 Uhr: Ombra
22.30 Uhr: Mishima
00.15 Uhr: Niños Mutantes
Jacint Verdaguer (Urban Music)
20.55 Uhr: Trigga
22.00 Uhr: Brisa Fenoy
23.25 Uhr: Babi Blackbull
00.40 Uhr: Phussyon Live Band + Alona Vinç
Sa Feixina (Electronic)
21.00 Uhr: Emea
22.05 Uhr: Animic
23.20 Uhr: Roñatron
01.05 Uhr: Philantropic
Plaça d'Espanya (Pop)
21.10 Uhr: Bruno Sotos
22.25 Uhr: Celtas Cortos
00.20 Uhr: Xriz
01.35 Uhr: Joan Campos DJ