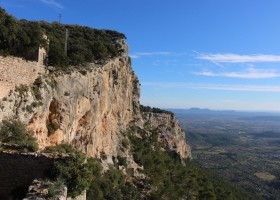 Hardly anywhere else there's a such breathtaking view as from the top of the Puig de Alaró mountain, what makes the historic castle of Alaró a very popular and worthwhile destination on Majorca.

Castell d'Alaró is one of the three castles in Majorca, next to the Castell of Santuïri and the Castell del Rei near Pollença, which was originally built by military purposes in the fourteenth and fifteenth centuries for the conquerors of the island.

A hike to the top of the 820 m high mountain, surrounded by the landscape of the Sierra de Tramuntana, is rewarded with an impressive panorama and is also an enriching cultural experience.

The legend does not let vestiges of ancient times be hidden- because the Puig d'Alaró turns "blood red" in the evening, which should symbolize the fallen people in the Middle Ages in the fight for the occupation of the castle and the blood spilled with it.

The original fortress wall with its five towers has been preserved and the castle ruins still have remains of the entrance gate (Torre de l'Homenatge) and the former Moorish prison, the southern main tower (Torre de la Cova) on. The nearby underlying stalactite cave "Sant Antoni" can be visited on foot. Particularly worth seeing are the five cisterns, formerly water reservoir, which could be of Arab origin. Above the castle, the oratory of Nostra Senyora del Refugi was built in 1622, which has been converted since the 17th century in a place of worship and pilgrimage. After the end of the military occupation in 1741, the place was used exclusively for religious purposes. Nowadays there is a small pilgrimage church and the "Es Verger", a rustic restaurant which is located on the long-distance hiking trail GR 221.

Castell d'Alaró was declared a cultural asset in 1931 and is managed by the responsible Foundation Fundación Castell d'Alaró. Anyway, it is one of the most beautiful hiking trails in Mallorca.

The varied and demanding tour of the castle complex requires sturdy shoes.
Even the restaurant operators still get traditionally supplied with a real donkey, which is occasionally seen.






Approach

The castle can be reached via a paved road from Alaró and a subsequent dry stone path.
Shortly before Alaró a serpentine road branches off to the castle. The road leads to the estate Es Verger with available parking. From here, the path to the castle can be covered in an hour on foot.
Owners of off-road vehicles can drive fifteen minutes to the nearest parking Es Pouet and in a short time directly via a staircase to the castle up.