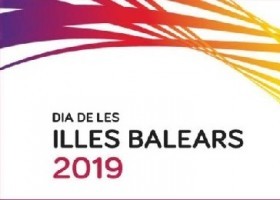 On Friday, March 01, Palma celebrates the "Dia de les Illes Balears", the independence of the islands of Mallorca, Menorca, Ibiza and Formentera. The event program starts on Thursday and has a variety of exhibitions, entertainments and free concerts around the city center until Sunday.
Among other things, the "Sculpture Exhibition" and the "Taller d'Herbes Eivissenques" will be on view at 4 pm from tomorrow at the Parc del Mar.

The main day of the event will be the Balearic Day itself, the 1st of March, where the Es Baluard Museum and the Parc Sa Feixina in Palma will be hosting a full-day gastro market. In the cult area of Santa Catalina, a traditional performance with Menorcan horses will take place. For children and families there will be games and sports activities at the "Paseo del Born" and at the "Pati del Consolat de Mar". If you want to indulge in literature and poetry, you can visit the historic garden "Hort del Rei" from 10.00 to 20.00 o'clock. During the festivities lasting several days, for example, there will be free admission to the Cathedral of Palma or the Monastery Museum of Lluc and the Almudaina Palace.

On Friday evening we recommend the open air party at the Parc Sa Feixina. Here "The Billy Young Band" will rock the stage with a tribute concert in honor of AC / DC.

On the occasion of the Balearic day the journey on the 1st of March is free of charge by metro and bus in Palma.
Further information about the program can be found here.