Tender for the use of the Cap de Formentor lighthouse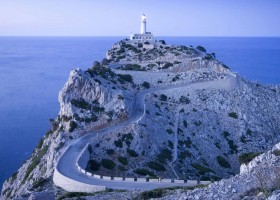 The lighthouse at Cap de Formentor is currently being tendered by the port authority of the Balearic Islands with the option of economic management and use for the next three years. For the most advantageous offer, the concession should finally be granted with approval for a bar, café and restaurant service in the pictorial property.

At the northernmost point of Mallorca, the 22 meter high lighthouse was first opened in 1863 and is one of the most popular excursion destinations on the island. It is 210 meters above sea level and at that time was only accessible via 272 precarious steps, which meant that the construction project was extremely laborious and entailed serious delivery problems over the entire course. The food and fuel deliveries took place once a week at that time. The cafe opened in 2006 and is now easier to access.

For the 636.50 square meter property, the bid starts at € 32,153.06 plus VAT and consists of the lighthouse, the restaurant, outbuildings, a garage, the old transformer room, a warehouse and of course the really breathtaking view.
Developed by © THURM CONCEPT